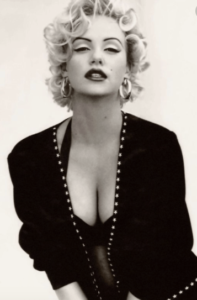 Charlize Theron as Marilyn Monroe? The mind boggles. Let's compare. Tall and statuesque Charlize at 5′ 10″, versus smaller and curvier Marilyn at 5′ 5″.
  If anyone can do it, Charlize can. She won the Academy Award playing serial killer, Aileen Wuornos, in Monster, a sizzling agent in Atomic Blonde, and alpha heroine, Imperator Furiosa, in Mad Max, and so many more. She has acting chops.
 Laurence Olivier was famous for insulting Marilyn with his gaffe, "Try and be sexy". She didn't have to try. She simply turned on a switch and the camera fell in love, projecting her beauty, vulnerability, and innocence. She is one of those icons loved by men AND women. But damn, Charlize looks good!
And if she can pull off the essence of Marilyn, the vulnerability, the tremulous voice, all will be well.
But they have to get the hair right!
And so do you. Ask for the Geo Palette Hair System, integrated with the new technology of Lumetrix Hair Color, to achieve spectacular results. Your hair color is your crowning glory. Marilyn Monroe will never be forgotten. Charlize Theron will triumph. But the hair  has to be perfect. And so does yours.